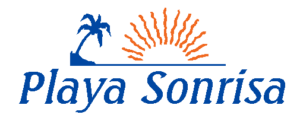 Playa Sonrisa is a Clothing Optional Resort where guests may or may not choose to get an all-over tan. So keep in mind that "optional" means that you decide to wear as much or as little as you want. Your comfort and relaxation are all that count.
There is no pressure on anyone to be naked anytime… only opportunity!
Some 'first-timers' are a little shy on arrival, but after a day or two of relaxing discover that "au natural" really is natural on a wonderfully deserted beach (only 6 guest rooms – rarely full).
We do require all "plumbing" below the waist to be covered up in Loco~Nutz during meal times.
We do not condone sexual activity in public. If hot tub "action" or anything-goes theme parties are what you are looking for we suggest you visit the all-inclusive "lifestyle"clubs in Jamaica or Desires in Puerto Morelos.
That's not to say we don't like to have fun, or that we've never poured body shots in the bar, but if orgies are on your agenda please bring your own play partners as our hospitality doesn't extend quite that far.
We respect the privacy of our guests by not posting identifiable nude photos on the web. We also respect the privacy of potential guests who might want to access our website at work or in a public venue, so we keep the content appropriate for public viewing.
But we definitely specialize in the Naturist travel niche, and the vast majority of our guests "exercise their options" to enjoy getting an all-over tan. With the exception of the parking lot our entire facility including beach, grounds, dock and the warm Caribbean are available for nude enjoyment.
We offer wonderful opportunities for nude snorkeling at a nearby coral reef area and for those with advanced water skills an awesome shipwreck site. We can also arrange for nude excursions to"Bird Island" or even nude fly-fishing.
Although we cater exclusively to adults in high season, kids are welcome in low season provided the parents are practicing Naturists.
Our guests (and Naturists in general) are almost universally very friendly, and our guests typically enjoy the opportunity provided by our small venue to make new friends, but please understand that our guests have chosen Playa Sonrisa specifically because we are small & intimate, not socially hyperactive.
Website: www.playasonrisa.com