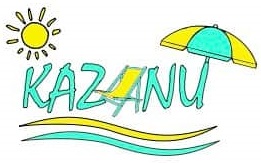 Welcome to Kazanu, an adult-only, clothing optional residence located in beautiful St. Martin/St. Maarten in the Caribbean.
We are located in the charming village of Oyster Pond, close to the border of this dual nation French and Dutch Caribbean Island. The residence has 7 units and each unit has its own private porch, bedroom, kitchen and bathroom surrounding the swimming pool and sundeck. You have a choice of renting the single units or the whole property for your own group or family to have it totally privatized. A small gourmet grocery shop and several restaurants are just a stone's throw away. The Oyster Pond Marina(Formerly Captain Olivers Marina) where you can board your private or group charter with one of our partners is within walking distance. Coralita Beach is just a 3 minute walk down the hill and Dawn Beach with several fancy hotels is a 5 minute drive in the direction of the Dutch side. The capital of Dutch Sint Maarten (Philipsburg) with its duty free shops is about 12 minutes away by car.
The friendly Island St.Martin / St.Maarten offers 37 beaches and we are sure your holiday with us is going to be one of your best memories ever ! The sun and sea temperature is 28 C or 82 F all year around and therefor it's the perfect environment in which to enjoy naturism at its best. The world famous Orient Bay beach ( which is regularly listed in the top 15 of the worlds best beaches) also happens to be the official Nude Beach ( authorized by Prefectural Decree) on island. This beach is a quick 15 minute drive from our Kazanu residence. Total nudity is also been practiced at some beaches like Cupecoy and Happy Bay (even though not officially sanctioned as Nude beach by the Governament) and on all beaches on the island going topless is accepted.
St. Martin/St. Maarten is also known as the "Gourmet Capital of the Caribbean" where the multitude of over 80 different nationalities contributed to the melting pot, influencing a wide variety of gastronomic restaurants and eateries for all budgets. No less than 5 restaurants are just a short walk or 2 min drive away from Kazanu. The very lively areas of Grand Case (French Side) and Simpson Bay (Dutch Side) are a twenty minute drive in opposite directions.
The Island has two airports: Princess Juliana International Airport and L'Esperance Airport. Princess Juliana International Airport (PJIA), located on the Dutch Side, is the second busiest airport in the Caribbean, one of the easiest to get to with 9 flights from North America and 3 flights from Europe on a daily basis. PJIA is world famous for plane spotting at Maho beach.
The regional "L'Esperance" airport in Grand Case on the French side serves mainly the other Caribbean Islands with smaller airplanes.
Website: www.kazanusxm.com