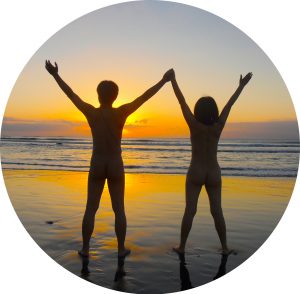 We are Nick and Lins, a bit of a crazy (in a healthy way) naturist couple who full time travel around the world in search of the best places to get naked and to learn more about naturism and nudism.
Pretty exciting, isn't it?
We haven't always been like this though.
Where we come from, small-town Belgium, naturism was something that didn't really exist. Or at least something nobody talked about. It wasn't until we kind of accidentally stumbled into social nudity that we found out about this wonderful naked lifestyle.
And we loved it!
The more we engaged in naturism, the more information we tried to find about the subject. Typically for our age, we searched for this information on the internet. But what we found was disappointing. Long boring texts, patronizing rule lists, and photos of full-frontal nude people which seemed to have been taken in the early eighties.
This was not how we experienced naturism at all!
So we decided that we could do this better. We wanted to tell the world about "our naturism".
Naturism through the eyes of a young couple.
Long story short, at the end of 2016 NakedWanderings.com was born.
Website: www.nakedwanderings.com