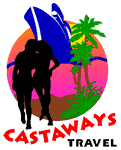 Castaways Travel is your leading source for Nude Resorts, Nude Cruise, plus Nude Singles and Nude Couples fun since 1984.
Nude Cruise and Clothing Optional Voyages. Nude cruises or a clothing-optional cruise is the ultimate vacation for nude couples. The fastest-growing adult vacation segment offers a fun time for all types of couples and singles. Bliss Cruise makes it easy for adventuresome couples to enjoy time at sea by offering adult-only, full-ship charters that tour exotic locations from Florida to the Eastern and Western Caribbean as well as Europe. Outside and on the sun deck, clothing is optional. Clothing is required inside the ship.
Nude Resorts and Clothing Optional Properties. A nude resort or clothing optional property with tropical beach fun from mild to wild awaits fun-seeking adult singles and nude couples who want to break free and enjoy the sun and sand! We have listed some of the more popular clothing optional resorts… but we feature much more. Follow the links below to read our full resort report on more than 70 resorts with either nude or clothing optional "on-premise" or nearby. In each piece, you'll find our descriptions from our site visits, along with our photo albums and client trip reports.
Nude and Clothing Optional Group Trips. Group trips offer the best value, the most fun, and a great community of people ready to make the very best of their vacation!
In actual practice, most resorts featured are clothing optional, with a few exceptions. Most cruises listed require clothing or a cover-up to be worn inside the ship or when dining. Clothing is optional outside on the sun deck, pools, hot tub, and sports decks. This can vary with the type of cruise listed; a couple of cruises are top-optional. The voyage is clearly described in each cruise listed.
Nude couples and nude singles. Enjoy the most delicious nude or clothing optional travel: Cruises, nude resorts, group trips and charter voyages.
Website: castawaystravel.com