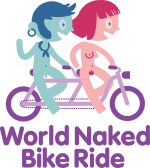 The World Naked Bike Ride (WNBR) is an international movement that began in 2004 as a form of peaceful protest against the overuse of cars, the destruction of the environment, and the promotion of non-renewable energy sources. The first WNBR event took place in London, with a group of cyclists riding through the city streets, completely naked. Since then, the movement has spread to over 120 cities worldwide.
The WNBR is not just about getting naked and riding bikes. It's a global movement that seeks to promote cycling as a viable means of transportation, raise awareness about environmental issues, and challenge social norms regarding nudity and body image. Participants are encouraged to decorate their bodies with body paint, slogans, and other forms of artistic expression to convey their message.
The WNBR is an inclusive movement that welcomes people of all genders, ages, and body types. It's not a race, and participants are encouraged to go at their own pace. The goal is to have fun, spread awareness, and promote cycling as a form of transportation.
The WNBR has been met with both praise and criticism. Supporters argue that the movement promotes sustainability, body positivity, and the freedom to express oneself. Critics argue that the movement is vulgar, offensive, and promotes public indecency. Some cities have even banned the WNBR, citing public safety concerns.
Despite the controversy, the WNBR has continued to grow in popularity. In some cities, thousands of people participate in the annual event. The movement has also inspired other naked bike rides and protests, such as the World Naked Gardening Day and the World Naked Hiking Day.
The WNBR is a unique and powerful way to raise awareness about important social and environmental issues. It challenges social norms, promotes sustainability, and encourages people to embrace their bodies and celebrate their freedom. Whether you participate or not, the WNBR is a movement that deserves recognition and respect for its powerful message and positive impact on the world.